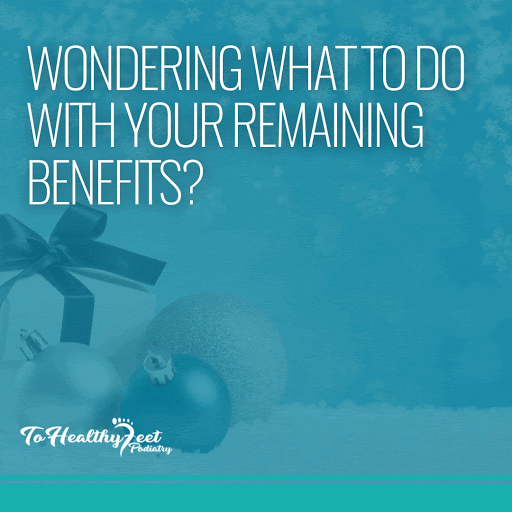 For those of you who have been quarantining or observing safe physical distancing at home, we acknowledge that you may not have had an opportunity to take advantage of your flex spending accounts (FSA) or health savings account (HSA) to cover certain out-of-pocket health care costs.
---
As the end of the year looms and those funds will soon expire, we wanted to remind you of the number of helpful and healthy services you can get from our office for your feet or the feet of a loved one. This includes:
Orthotics (custom) - you can get casted in the new year, or a second pair for running or dress shoes
Intense percussion massager (hypervolt/theragun type)
Merino wool socks (great for Holiday gifts)
Electrical stimulator (great for pain)
Splints for plantar fasciitis
Biofreeze (medical grade)
A medical pedicure

Book Your Covid-19 Active, and Covid-19 Antibody Testing
As a reminder, we also offer COVID-19 AND Antibody testing in our office. With most plans, you'll only be charged your co-pay. Skip the lines and ensure that you're safe during these difficult times.
For more information on our COVID-19 and antibody testing, click the button below.

Fun Foot Facts!
Did you know that the average New Yorker walks 2-5 miles per day?
With over 12,750 miles of sidewalks and 30,000 acres of parks, New York City is a walker's paradise. Whether it's a calm evening stroll across the park to the grocery store, or a brisk walk in the morning to get to work, us New Yorkers seem to always be moving. All of this walking is a likely contributing factor to the fact that New Yorkers live, on average, about five years longer than the average American!

Our Clinics in Midtown and Downtown NYC Can Help You Walk Away From Foot Pain
If you are looking for an NYC foot doctor, you have come to the right place. At To Healthy Feet, our team of award-winning NYC foot doctors are available to work with you and develop a customized treatment plan for you and your foot needs.
To learn more about how our knowledgeable and experienced NYC podiatrists can help you overcome your foot condition, contact us at 917-398-3668, or book a consultation appointment online!